The Tallinnovation project was organised through a collaboration between the science and business park Tehnopol and Tallinn City. Koduandur was among the recipients chosen to receive funding for piloting its project. Recently, 20 Tallinn residents had the opportunity to test the combined services of Koduandur and Kodunupp for free in their daily lives.
One city resident whose life was significantly improved by the service is Sabine Lukin and her 84-year-old grandfather. After using the service for five months, Sabine said that both her and her grandfather's lives have become a lot more comfortable and stress-free.
Life before Kodunupp and Koduandur
Sabine said that they made the decision to try the service with her grandfather due to his high age and health issues. Sabine became aware of the Koduandur and Kodunupp service through a social worker from the city administration who introduced the project to both her and her grandfather.
Sabine began using the combined services of Koduandur and Kodunupp in March of this year. She said that over the past five months, there have been numerous instances where the Koduandur immobility notifications or Kodunupp messages calling for urgent need for attention have spared her from making dozens of check-up trips.
Sabine's grandfather's health had been deteriorating, and the combined services of Kodunupp and Koduandur proved to be valuable in their daily lives. Prior to using Koduandur, Sabine's life was more complicated, as she had to constantly travel between two homes. "I have been freed from making several dozen trips," said Sabine. "It saves both my nerves and my time. If I didn't have Kodunupp, I wouldn't have been able to make a single outing this year." Sabine further explained that before using Koduandur and Kodunupp, she couldn't even plan smaller outings.
"Kodunupp has saved me from a few dozen checks. It saves nerves and time. If it wasn't for the alarm button, I wouldn't have been able to make any trips this year."

Sabine Lukin, 84-year-old grandfather's granddaughter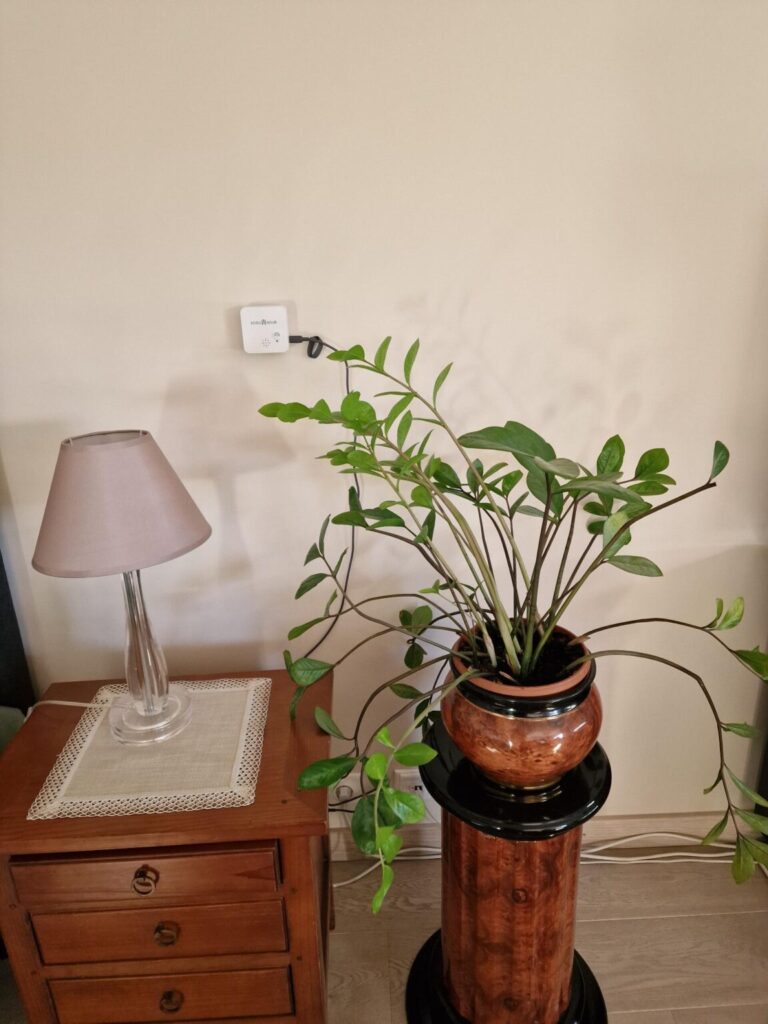 Initially suspicious, now fully confident
At the beginning of using Koduandur and Kodunupp, Sabine had doubts about whether her grandfather could operate Kodunupp. She admitted that when she first saw Kodunupp, which is worn on the wrist, she was quite certain that her elderly grandfather would struggle to operate the button and understand how the alarm functioned. Sabine was afraid that her grandfather might place something on the wall that would obstruct Koduandur's vision and disrupt its work. "Both fears proved to be unfounded, as my grandfather has been getting along perfectly from the very first day," said Sabine. She was pleasantly surprised to learn that her grandfather could comfortably wear Kodunupp outside of his home. Sabine said that this solution provides her with peace of mind, as the need for assistance, along with GPS location information, is always accessible to her.
Improved quality of life for her grandfather and an increased sense of security
Sabine also appreciates the ability to conveniently view the mobility data of her loved one from a computer or smartphone at any time. She recalls situations when her grandfather felt very unwell but didn't have a phone nearby to call for help. "Kodunupp sends me a signal alerting me that something is wrong, which allows me to respond immediately," said Sabine. She still remembers a time when her grandfather could only travel between the rooms within his home. By monitoring their movements, Kodunupp users can get an idea of how active their elderly family members are. According to Sabine, her grandfather now takes an average of 6,000 steps every day.
Sabine mentioned that the service has not only improved her quality of life but has also had a positive impact on her grandfather. She said that her grandfather has been much calmer since March when they began using the service, because he knows he can always call for help in an emergency. Pressing the alarm button is easier for her grandfather than using a phone, since his hands are affected by deformities and do not move well due to old age and health issues.
Kodunupp and Koduandur have helped avoid nursing homes
According to Sabine, she now has more time for her family thanks to Koduandur and Kodunupp. She also has the opportunity to travel, as she can always check her grandfather's activity level on her phone. Sabine finds that Koduandur and Kodunupp are not only suitable for the elderly but also young people and children with various diagnoses. She believes that Kodunupp and Koduandur could provide them and their families a more peaceful and free life.
Sabine concludes her story with words of gratitude to the Koduandur team who, according to her, have made her life significantly easier and have always been readily available for her. The biggest positive aspect of Sabine's experiences thus far has been the improvement in her grandfather's quality of life. She no longer feels the need to consider placing him in a nursing home or care facility.
Sabine and her grandfather's story is a real example of how technology and innovation in the social field can work together to greatly enhance the daily lives of the elderly and their loved ones, providing them with an increased sense of security and independence.
Find out more about which local governments it is possible to apply for a Home Sensor FREE of charge or on discounted terms HERE: